PROFILE
THE EXECUTIVE DIRECTOR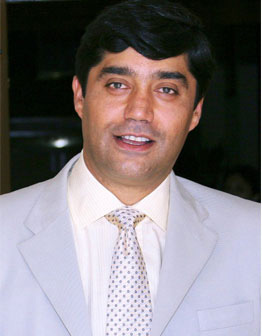 DEREK MOUNTFORD
Executive Director
---
---
Educated in India and The United Kingdom, Derek Mountford chose a career in education on his return to New Delhi in 1996.
Prefaced by a first degree in History from St. Stephen's College, Delhi, and a Master's from The School of Oriental and African Studies, London, Derek Mount ford's twenty-year career spans association with Arun Kapur at The Vasant Valley School, John Mason at The Doon School, successive Secretaries of the HRD Ministry at The Lawrence School, Sanawar, and as Headmaster of The Assam Valley School, close ties with Gulab Ramchandani (former Head of Doon School), Professor Ranjit Bhatia (Rhodes Scholar and former Professor of Mathematics at St. Stephen's), Abha Adams (former Director of The Sri Ram School in Delhi and currently Principal Advisor to Step-by-Step School, Noida ), Meera Isaacs (Principal, John Connon & Cathedral, Mumbai) and David Summer scale (former Headmaster, Westminster School, London).
Having scripted a success story with the transnational Williamson Magor Education Trust, Derek Mountford accepted the Directorship of G.D. Goenka World School in the winter of 2014, returning to the National Capital Region, instead of alternative assignments in London and Dubai.
Born in 1971, Derek graduated as Head of School from the famous and prestigious Sherwood College, Nainital, with an Indian School Certificate aggregate of 92%, with the rare distinction, in the now 147-year-old school, of being one of few schoolboys to be the recipient of the 'Big Four' — the Taylor Memorial Prize for the Best School-Leaving Result, the Sportsman of the Year, the Best All-Rounder and the coveted Spitz Prize for Integrity and Service.
Opting to read History over English and Economics at St. Stephen's, Derek distinguished himself in sport, particularly Soccer, with 'Full Colours' and Captaincy of the College Team, in addition to being the Secretary of Sport & Cultural Affairs in his final year.
At 21, Derek found himself as any respectable student of History, at The School of Oriental and African Studies, University of London — an experience that transformed Derek's life both in terms of scholarship and world-view.
Being offered a natural progression to a doctoral programme at both London and Oxford, after being mentored by members of the legendary Subaltern Studies Collective at SOAS, Derek fell back instead on a family calling of teaching in India, tracing back to pre-Independence Stephania.
Professional life saw Derek advantaged by a fascinating start in the then early days of Aroon and RekhaPuri's 'India Today' venture into K-12 education. At Vasant Valley, Arun Kapur taught Derek what it took to be a forward-looking professional and, later, at The Doon School, John Mason tempered an understanding of the depth of commitment required in school-mastering — as a teacher, Housemaster, Head of Department, Manager of the prestigious Doon School Weekly, Head of Debating and as Leader of The International Award for Young People at the School.
If, at 27, Derek was probably the youngest Housemaster in the history of The Doon School, at 31, when the then Secretary of the HRD Ministry, Government of India, ratified Derek's appointment as the Deputy Headmaster of The Lawrence School, Sanawar, eyebrows were raised in certain quarters of the traditional public school paradigm in India.
Consequently, having officiated as Headmaster of Sanawar briefly, Derek was offered Headship of The Assam Valley School, and he exited Sanawar, despite a family connection of over 53 years, his father having been the Head boy in 1958 and Derek's parents having met and married there.
Derek describes his years at The Assam Valley School (AVS) as the sharpest learning experience of his life. "When you play Headmaster for half the school's history, on 235 acres, with 930 pupils and 345 employees in a co-educational residential experience", Derek argues that,"an inexplicable but markedly conspicuous connectedness creeps over you in the discharge of your duty of care to children."
40 million people live in the North-East of India, in itself almost the size of Europe and culturally more diverse than any other part of the country. Derek described AVS, "as delicate and complex a challenge as running an international school anywhere in the world".
Derek's success story is paraphrased by the 2013 C fore – Education World ranking of AVS "which he nurtured into one of India's Top 5 boarding schools and No. 1 in Eastern India during his term (2003-13)" into the top 3 co-educational boarding-schools countrywide.
In addition to ensuring fiscal rigour and prudence at the School, with an eye for detail in administration, Derek's team initiated high quality Teaching-Learning Systems leveraged off a robust IT Platform, ensuring superior pastoral care, while practicing a marked focus on the Achievement Index in academics, sport and cultural pursuit, all essential attributes of effective educational administration.
With three generations of his family in education, Mr. Mountford enjoys a wide network of friends and associates in K-12 education and he believes that a relevant and meaningful contemporary education should equip young people with the capacity to bring creative value to the institutions they choose to serve in their lifetimes.
"We are at a tipping-point in education", says Derek "and I feel that G.D.GoenkaWorld School will be able to engineer a cosmos of learning where innovation and creativity will flourish".