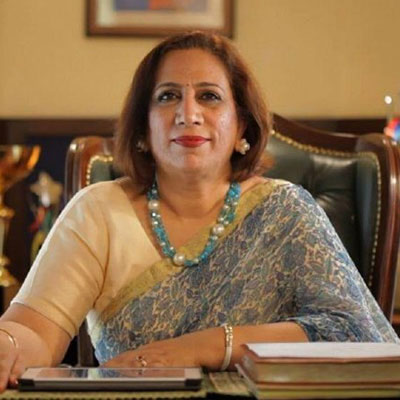 Dr Neeta Bali is a seasoned educator with over 34 years of experience in the field of education. She started her career with Mater Dei School in Delhi as Head of department, English and served for over 18 years. Subsequently, she was the Vice- Principal., Apeejay School, NOIDA for 6 years. From May 2008 to December 2014, she was the Principal and Head of School at G D Goenka World School.
From January 2015 to May 2017, she headed Kasiga School- a residential School in Dehradun that now ranks among the top residential schools in the country followed by a brief tenure as Head of Podar International School- Powai, Mumbai. She is an eloquent speaker, Trainer and has been frequently invited to speak at various prominent educational conferences all over the country. Her repertoire includes various curricula, ICSE and ISC, CBSE, IBO Accredited programmes- PYP and IB-DP, Cambridge accredited programmes – IGCSE and AS and A Levels. She has spearheaded partnerships with some leading schools in Scotland – Oban High School and Wasatch Academy- Utah – USA. She has worked intensively with the British Council as a BCSA- British Council School Ambassador in promoting the spirit of international mindedness. Apart from this, she has authored English Language books for Frank Educational Aids and a book of Essays for Madhuban.Her forte' is English Language teaching, teaching of Psychology and Career as well as Psychological Counselling and she is a trained counselor.
Other programmes promoted by her during her various assignments are the IAYP and the Interact Club –an offshoot of the Rotary club. She is on the apex advisory of many leading organizations like Univariety and Cogito Hub and is an editorial advisor for leading educational publications like 'Scoonews'. She has written several articles for widely read Educational magazines like 'Teacher' brought out by Australian Council for Educational Research and 'Mentor'. Her conviction and passion are to promote the Academic, emotional and social well being of all pupils under her care and she believes in working in synergy with the parent community as well as her colleagues. She is the recipient of 'Jean Lawrie International Grant 'and award conferred on her by IASL in the year 2015 and 'Inspiring Educator's Award' conferred by Rocksport and received from Dr Kiran Bedi as well as 'Exemplary Educator's Award 'by Productivity Council of India in addition to the 'Uttarakhand Rattan Award 'conferred on her in 2015 by PPSA- Dehradun.