Profile of Principal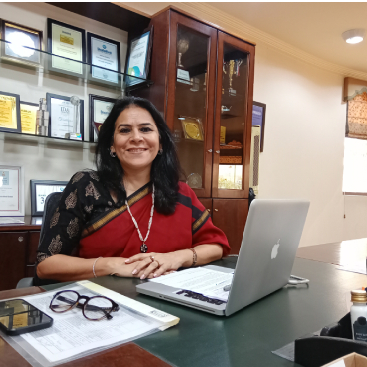 Mrs. Sonali Sinha   has worked in the field of education for over three decades, the last two of which she spent as the head of several prestigious schools in India. She graduated from Lady Shri Ram College in Delhi and has a master's degree in history as well as two bachelor's degrees in history and education.
She began her career as the Head of the Computer Center at DPS, Mathura Road, Delhi before moving on to become a TGT in history at DPS, Noida, where she also played a key role in designing and establishing a computer lab in 1996 to keep her students ahead of the curve in terms of embracing technology. She has also co-authored computer courseware for schools with NIIT. As the school's founder and leader, she founded a DPS in Lucknow and over the course of ten years, expanded it. She has also served as the Head of School at The Kasiga School in Dehradun and The Universal School, in Tardeo, Mumbai. She has successfully served as the head of The Universal School in Ghatkopar, Mumbai. An institution that offers both the International Baccalaureate and the IGCSE curricula.
Mrs. Sinha has received a certificate of distinction from Education Today for being among the "Top Fifty Effective Principals of the Country" in 2019 and 2021. Additionally, she received the Principals Progressive Schools Association's "Uttarakhand Ratan" award in 2018 and the Fortune 50's "Future Fifty Leaders Shaping Success" award in 2019.
Additionally, Mrs. Sinha has led numerous foreign collaborations with BelOrme School, France, Williamston School, Scotland, and Dedridge School, Scotland.
Mrs. Sinha is known for being a collaborative and approachable leader who fosters a culture of teamwork and open communication. She believes in empowering her staff and creating a positive work environment that supports professional growth and development. She is committed to building a safe and inclusive school environment where all students feel valued and supported.