Our Affiliations & Academic Infrastructure
AFFILIATIONS:
GDGWS is authorised to offer the following programmes:

The IB Diploma Programme, under the International Baccalaureate Organisation, Geneva, Switzerland, for Grades 11 and 12.
The I.G.C.S.E., under the Cambridge International Examinations Centre for Grades 9 and 10.
The School is authorized to teach (PYP) under the International Baccalaureate Organisation.
INSPIRING ACADEMIC ENGAGEMENT:
We offer young and aspiring students academic engagement with international standards. The enriching IB and IGCSE curricula stimulate academic freedom and practical study. Thoughtfully scheduled classes and close mentorship by the faculty nurtures an academically vibrant community at GDGWS.
GDGWS strives to promote value-based growth by offering a diverse and multi-cultural learning platform that stimulates open-minded thinking and boosts mutual understanding amongst its multi-lingual student body.
The well-qualified faculty at GDGWS come with extensive experience in their respective fields. They mentor students, encouraging them to become active, compassionate, lifelong learners. Studying techniques, unique to an international curriculum, ensure students engage with the faculty and their peers while sharing their opinions in classroom discussions.
The IB and IGCSE curricula, offering courses in all streams (arts, science and commerce), allow student migration to schools situated in another countries. They entitle students to gain admission to graduate courses in the world's most prestigious colleges and other institutions of higher learning.
SEMESTERS:
The semesters are divided as follows:

Nursery to Grade 8: April to September; October to March.
Grade 9: April to December; January to May.
Grades 10-12: August to December; January to May.
CURRICULUM:
The GDGWS curriculum encourages students to become confident and independent thinkers who can apply their knowledge and skills to the rapidly-changing scenario in the 21st Century. In addition to more traditional aspects, teaching at all levels includes cross-curricular links, project work, group work, presentations and discussions.
ACADEMIC INFRASTRUCTURE:
We offer, not just classrooms, but workshops for learning:

Flexible, spacious subject-based classrooms.
All teaching areas are equipped with technological aids: a PC projector, camera and visualiser.
Modular furniture, used by the Primary School, allows the rapid reorganisation of the classroom to accommodate group work and differentiation, demanded by the IB Primary Years Programme.
Extensive display boards in every classroom provide space for the acknowledgement of students' work and achievements.
Campus-wide wireless networking allows for the use of student laptops anywhere and at any time.
SMART CLASSROOMS:
Every classroom is equipped with state-of-the-art audio-visual facilities, which include a projection system, backed up by audio paraphernalia, to assist presentations & interactive sessions.
A combination of leading IP-based control processors, AV matrix switchers & a touch panel provides narrowcasting, paging, lighting control & BGM facilities in an exceptionally versatile manner where every classroom works as an independent unit.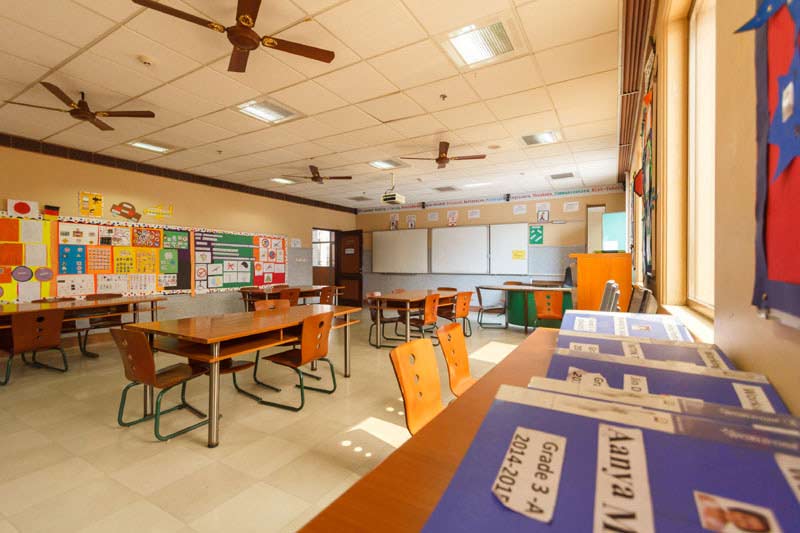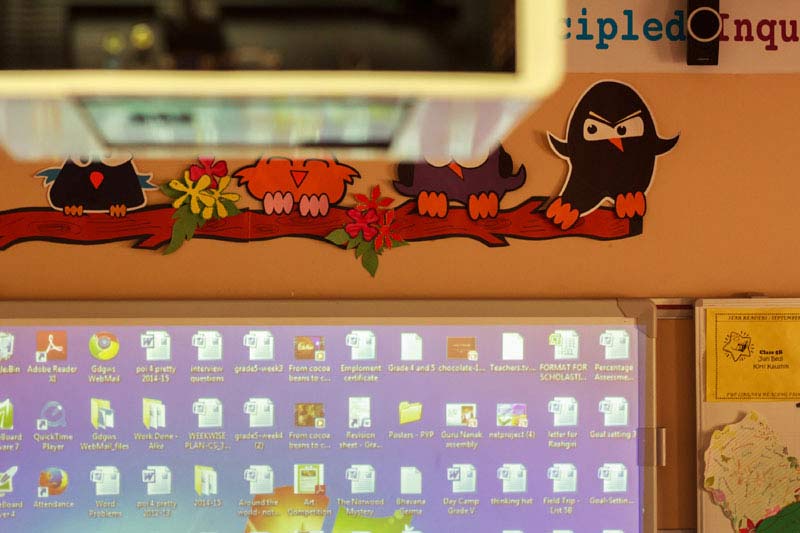 LABORATORIES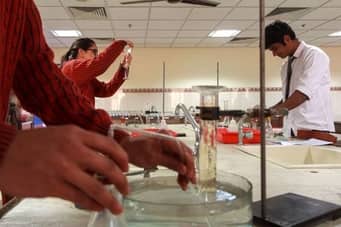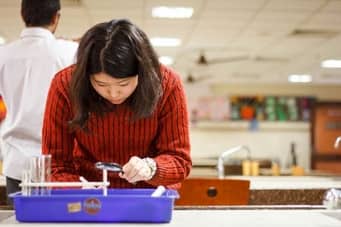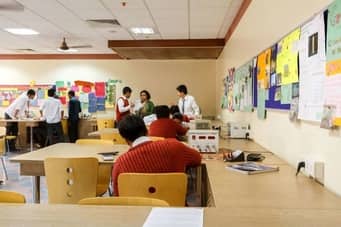 Each of the junior and senior laboratories for Information Technology, Physics, Chemistry and Biology is spacious and well-equipped, allowing children an engaging environment to devise and evaluate their own experiments.
The Language Lab is equipped with over 20 computers that runs software which helps develop oral proficiency in the modern languages.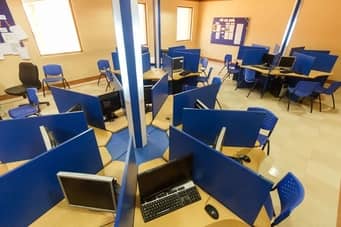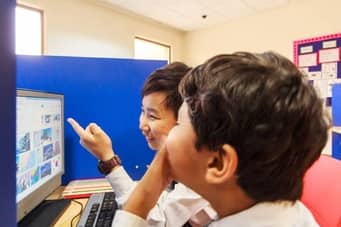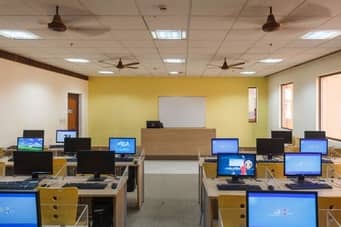 LIBRARIES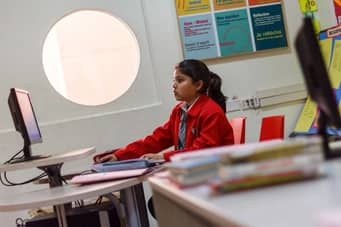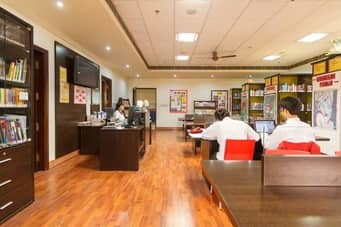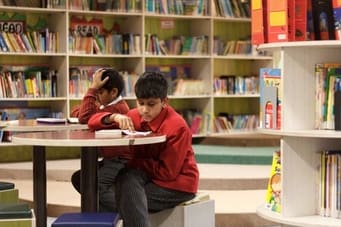 The school has 3 libraries for the Primary Years Programme (Nursery to Grade 5), Middle School (Grades 6 to 8) and Senior School segment (Grades 9 to 12).
The well-stocked libraries, with intranet based Wi-Fi facilities, are inviting quiet zones for resource work, reflection and reading.
BOOKS & STATIONERY STORE:
The school has outsourced a books & stationery store to ensure students have access to all material available in the market. Open five days a week for the duration of school hours, it caters to the needs of the children who can replenish their stationery or buy books as the needs arises.
ACADEMIC SUPPORT:
Through leadership and communication, professional and curriculum development, documentation & resource management, the IB & IGCSE Coordinators, Academic & Careers Office, Guidance Cell and Special Education department at GDGWS are given the opportunity to develop administrative skills that build a strong school culture, shared values, beliefs and commitment to GDGWS.
With a commitment to a common vision and purpose, they have an international mind-set, with an eye on the big picture. Understanding the various needs of children, especially the academic and social needs of adolescents, they are supportive mentors that perform their duty with diligence and flexibility.
In the process of planning, organising, coordinating, collaborating and relationship-building, they exhibit instructional leadership while developing/evaluating curricula and encouraging the professional development of their colleagues.
With a thorough understanding of the IB and IGCSE programmes and strong IT skills, they communicate effectively, exercise good judgment and participate in building collaborative structures that are reflective of their attention to detail, high standards, belief in accountability and desire for continuous improvement.
The IB & IGCSE Coordinators at GDGWS
Academic & Career Counselling
Guidance Cell
SEP