Cambridge Lower Secondary Programme[CLS] at GDGWS
GDGWS is considered as one of the best Cambridge schools in Gurgaon and it follows the Cambridge Lower Secondary curriculum from the Cambridge Assessment International Examinations (CAIE) at the middle school level for grades 6 to 8.
Cambridge Lower Secondary is a top and most sought after international curriculum. The programme is progressive and flexible and helps the students become independent learners. It encourages them to take initiatives and helps students build character, confidence, and cross-cultural sensitivity.
Being one of the top Cambridge schools in Gurgaon, GDGWS provides a natural progression from PYP and prepare the students to move into the IGCSE Programme seamlessly. It provides a flexible framework that is tailored to the learners' needs, through focus on building skills of subjects like English language, Science and Mathematics.
To balance the core curriculum and reinforce skills, the students are engaged in an array of enrichment activities, which includes arts, music, dance, web designing, etc. GDGWS also employs the latest technological advancements in order to enhance the overall teaching and learning experience at the school.
The Subjects Offered
English*
Math*
Science*
Hindi
French/Spanish/German
Information Technology
International History & Geography
Physical education/Global perspectives* /Visual art
Assessments
Middle school assessments encourage teachers to assess subjects in the classroom through discussion, observation and lesson outputs. Assessment guidance helps teachers give formative feedback on the skills they want learners to develop so that they can reflect on, and improve their performance.
One academic year is divided into two semesters. Each semester has two Interim Progression test(IPT) and a Semester progression exam.( Mid year & March year end)
Highlights of the Programme
CLS curriculum is an amalgamation of skill and concept based learning to prepare the learners for the modern unknown world of tomorrow. It majorly focuses upon –
Ways of thinking: It includes creativity, innovation, critical thinking, problem-solving, decision-making, and learning how to learn.
Ways of working: It includes new forms of collaboration, communication and presentations.
Tools for working: It includes developing information literacy and the capacity to harness the potential of new technologies.
Skills for living in the world: It comprises the development of local and global awareness, and personal & social responsibility.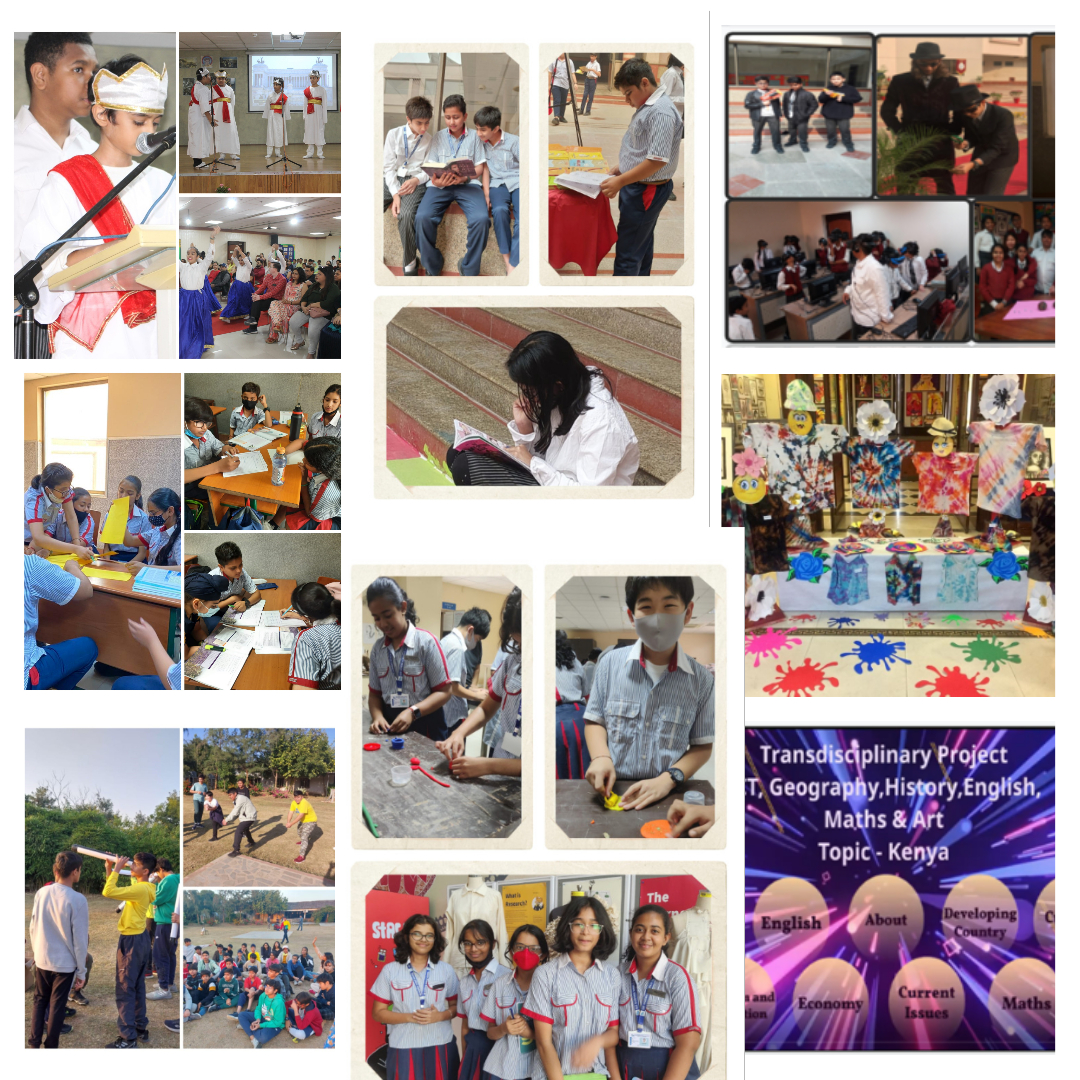 The various transdisciplinary skills are honed through the demonstration of : project based learning , doing and learning , research based learning and context based learning customised as per the learner's needs.
Cambridge Secondary Checkpoint Progression Test
GDGWS helps to prepare students for IGCSE by taking these Checkpoint Progression Tests at the culmination of Grade 8. These tests skills, knowledge and understanding at the end of the programme. These tests are diagnostic in nature and give comprehensive reports regarding the strengths and weaknesses of the students. These tests provide an "International Benchmark" to students and are taken in only three subjects –English language, Math and Science.
PSHE
PSHE stands for Personal, Social, Health and Economic Education. PSHE aims to help pupils understand how to develop both personally and socially, whilst tackling many of the moral, social and cultural issues that are a part of growing up. These skills and characteristics enable the pupils to stay healthy and safe, whilst also preparing them for life and work in the modern world.It is through PSHE that the students learn about bullying, citizenship, drugs education, careers, mental and emotional health, well-being and relationships & sex education (RSE). At GDGWS, our PSHE programme helps students to develop skills and attributes such as resilience, self-esteem, risk management, team work, critical thinking, etc.
Student Services
Career guidance Cell
Middle school is the great time for students to take control of their college preparation. Career guidance sessions with Grade 8 students encourages them-
To get involved in school and community based activities that let them explore their interests and learn new things.
To discuss their thoughts and ideas with their family ,form tutor, Head of Programme and career advisory in school.
To gauge their interest in various subjects through API(Aptitude Personal Interest). It also helps to understand the child's interest which indirectly helps parents to know the blend of subjects they might take at IGCSE.
Student Council
The Student Council at CLS , GDGWS is a robust student body elected by the students.They are the representatives of this segment who work in sync with the framework of the institution. The aim of this body is to provide a means for student expression and assistance in school affairs & activities. The students get an opportunity to hone their leadership skills. Their potential is tapped , their personalities groomed and made ready to take up larger roles. The members of the committee are responsible for planning and executing inter-house competitions , driving social initiatives to reach their desired goals.
The Student Council is a hallmark of the student voice and a true exposure to the functioning of democracy.
Learning Support Unit (LSU)
LSU is an integral part of GDGWS's approach to supporting pupils who need extra academic support or have become disengaged, or with challenging behaviour. It provides individual support programmes which may include one‐to‐one or small‐group teaching for pupils identified as having academic, emotional and social difficulties.
Pupils follow their usual curriculum programmes of study within the support unit.
The staff remains aware of the ethos of the LSU and works in partnership with support staff to reintegrate pupils as quickly as possible.
They are closely linked with parents and carers and with professionals from other agencies, particularly with social care workers and behaviour support services.
SAP- (Student Activity Programme)
The SAP at GWGWS aims to tap the talent of each student , enabling them to flourish and identify their strengths beyond academics. The objective of holistic development is met through the engagement of students in a plethora of clubs offered by SAP. The students get exposure to a wide range of activities wherein they widen their horizon of learning.
Literary Club
Mellifluous Club
Lights Camera Action
MUN Club
Web Designing Club
Nimble Feet
Art & Design Club