IB Diploma Courses and Subjects
IB Diploma Courses and Subjects
GD Goenka World School is one of the first IB schools in Delhi NCR to offer a rigorous International Baccalaureate (IB) programme. As suggested by recent surveys, the skills taught in the IB diploma courses are highly valued by universities across the world. Being one of the top IB residential schools in India, we offer our International Baccalaureate (IB) program with strong focus on critical and insightful thinking, decisiveness, collaborative working, authoritativeness, and planning. These are some of the features that have helped GD Goenka World School rank among the best IB boarding schools in Gurgaon.
WHAT IS THE IB DIPLOMA PROGRAMME?
The IB Diploma Programme is an academically challenging programme of education that prepares students, normally aged 16 to 19 years, for success at the University and the life beyond. This IB diploma course is an internationally recognized programme and is offered in many IB schools at international destinations across the globe, along with at a number of IB board schools in Delhi NCR.
THE IB DP CURRICULUM
Positioned among the best IB schools in Delhi NCR, GD Goenka World School is known for its state-of-the-art infrastructure and boarding facilities together with an experienced faculty and a well-balanced curriculum. The curriculum, like at most IB schools in Gurgaon, is modeled below with six IB diploma subjects surrounding the three core requirements.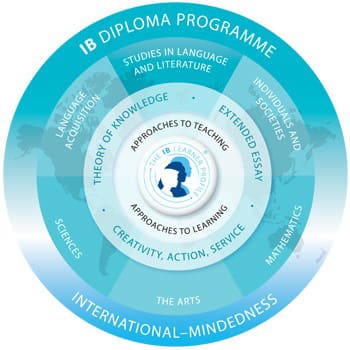 SUBJECTS OFFERED
Group 1 – Studies in language and literature
English Language and Literature, English Literature and Hindi Literature
Group 2 – Language acquisition
Language B: French, English, Spanish, Hindi and German
Language ab initio: French, German, Spanish
Group 3 – Individuals and societies
History, Psychology, Economics, Business Management and Information Technology in a Global Society
Group 4 – Sciences
Biology, Chemistry, Physics, Computer Science & Environment Systems & Society
Group 5 – Mathematics
Group 6 – The arts
Visual arts & Theatre
IB Diploma Programme students at the top IB schools in Gurgaon/Delhi study six IB diploma subjects and the IB Core –
Three subjects at Higher Level.
Three subjects at Standard Level.
IB Core comprising of Extended Essay (EE), Theory of Knowledge (TOK )and Creativity Activity and Service (CAS).
The students choose one subject from each of groups 1 to 5, thus ensuring breadth of experiences in languages, social studies, Sciences and mathematics. The sixth subject may be an arts subject chosen from group 6, or the student may choose another subject from groups 1 to 5.
In addition the Programme has three core requirements that are included to broaden the educational experience and challenge students to apply their knowledge and understanding.
ASSESSMENT
Students take written examinations at the end of the two year programme. The grade awarded for each course range from 1 (lowest) to 7 (highest). Students can also be awarded up to three additional grade points for their combined results on theory of knowledge and the extended essay.. The highest total that a Diploma Programme student can be awarded is 45 points and the diploma is awarded to students who gain at least 24 points subject to certain minimum levels of performance across the whole programme and to satisfactory participation in the CAS requirement.
Students can choose to study for individual IB Course, rather than the full diploma, if the diploma combination does not best meet their individual needs or circumstances.
IB RECOGNITION WORLDWIDE AND IN INDIA
Higher education institutions around the world admit students based on their IB Credentials and 150 countries worldwide recognize the IB Diploma. It has also been recognized by the Association of Indian Universities (AIU) as an entry qualification to all universities in India. Since Jun 2016 the AIU also accepts IB DP Course as an entry qualification to Indian universities. The IBO issues a document detailing percentage equivalency along with a transcript of results especially for Indian Universities.
We are regarded as one of the leading accredited IB schools in Delhi NCR having earned a reputation for our high standards of teaching, well-established campus and boarding facilities, innovative leadership and student placements, right from our IB elementary school to higher classes. Our IB elementary school plays a central role in the development of students and making them future ready for higher studies and beyond.