Our State-of-the-art Library
LIBRARY
The three well-stocked school libraries are age-appropriate reservoirs of resources for the Primary Years Programmes (Nursery to Grade 5), Middle School (Grades 6 to 8) and Senior School segment (Grades 9 to 12). Each have intranet-based Wi-Fi facilities and are inviting quiet zones for resource work, reflection and reading.
Reading is a very important part of education and we encourage members to make the best use of our libraries and library services.
TIMINGS:
The Libraries not only share timings with the rest of the school, but also remain open till 3:00 pm to facilitate its use by the Boarders.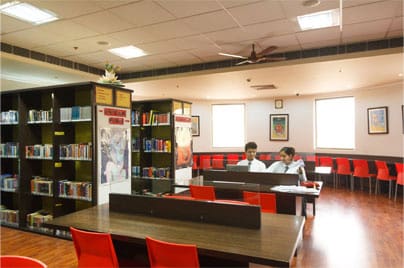 BORROWING POLICY:
All three libraries offer an automated library system.
Student Members may borrow one fiction and one non-fiction book or two non-fiction books at a time. They cannot borrow two fiction books at one time.
Faculty Members, once registered, may borrow books and the lending duration is usually one week only.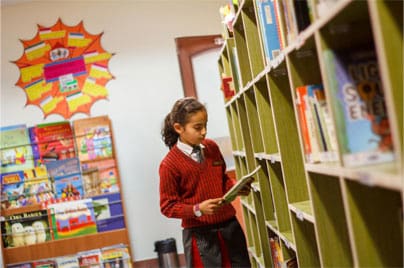 BORROWING PERIODS:
| | | |
| --- | --- | --- |
| Resource | Number | Borrowing period |
| Books from General Collection | 2 | 2 weeks |
| Reference books and Material | 1 | Overnight |
| Electronic Resources | | Only In-house |
| Magazines and Newspapers | 2 | Only old issues, for 3 days |
| Maps | | For the duration of one teaching period only. |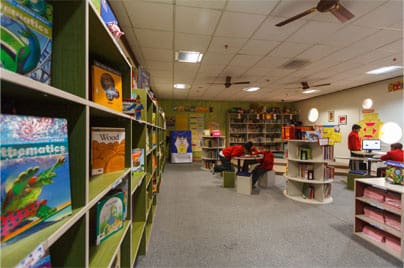 LIBRARY PROGRAMMES & EVENTS:
Each year we celebrate 'International School Library Day', 'Library Week' and 'World Book Day' along with various Authors' birthdays to create awareness and generate a love for reading. Every month we organise programmes such as Story Telling, Book Talks, Creation of Big Books and the creation of theme-based scrapbooks on Units of Enquiry.
USAGE:
In case the borrowed book is lost or damaged while in the possession of a member, the member is required to replace the latest edition of the same book.
Expected Behaviour:
Members are expected to take care of the library and its resources in the following ways:
Do not remove any page or pages from print resources or damage electronic resources.
Do not make any pen or pencil marks in any of the books.
Do not re-stack a book in the wrong section, making it difficult for others to locate it.
Maintain silence inside the library.
Finally, when leaving the School, members must return all resources, clear dues, if any, and collect a No Dues Certificate from the library.