Our IB Diploma Programme
"Life in the 21st century, in an interconnected, globalized world, requires critical thinking skills and a sense of international mindedness, both of which International Baccalaureate Diploma Programme (IBDP) students learn and understand."- IBO
A pioneer, day boarding cum residential IB School, established in 2003, GD Goenka World School takes the onus of laying foundation and preparing enterprising students as global citizens. The campus is designed to offer privacy and independence as well as the opportunity to be part of a vibrant multi-cultural community, represented by students from around the country and the world! Just 30 minutes from the centre of Gurgaon and an hour's drive from IGI (the domestic and international airport) in Delhi, GDGWS offers a fully air-conditioned boarding facility, away from the noise and pollution of the city, with wide open green spaces and multiple playing fields.
What is the IB Diploma Programme?
The IB Diploma Programme is an academically challenging programme of education that prepares students, normally aged 16 to 19 years, for success at University and life beyond.
The curriculum is modeled below with six academic areas surrounding the three core requirements.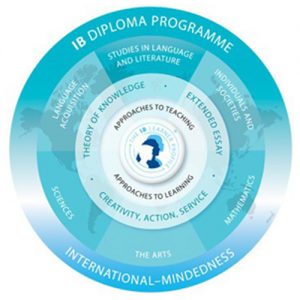 Group 1 – Studies in language and literature English Language and Literature and Hindi Literature
Group 2 – Language acquisition Language B: French, English, Spanish, Hindi and German Language ab initio: French, Spanish
Group 3 – Individuals and societies History, Psychology, Economics, Business Management and Information Technology in a Global Society
Group 4 – Sciences Biology, Chemistry, Physics, Computer Science & Environment Systems & Society
Group 5 – Mathematics Analysis and Approaches (AA) HL/SL  Applications and Interpretation (AI) HL/SL 
Group 6 – The arts Visual arts
IB Diploma Programme students study six subjects and the IB Core –
-Three subjects at Higher Level
-Three subjects at Standard Level.
-IB Core comprising Extended Essay (EE), Theory of Knowledge (TOK )and Creativity Activity and Service (CAS)
The students choose one subject from each of groups 1 to 5, thus ensuring breadth of experiences in languages, social studies, Sciences and mathematics. The sixth subject may be an arts subject chosen from group 6, or the student may choose another subject from groups 3 or 4.
In addition, the Programme has three core requirements that are included to broaden the educational experience and challenge students to apply their knowledge and understanding.
Creativity, Activity, Service (CAS) – an integral part of the programme, which emphasizes individual social responsibility and a commitment to improving the world in which we live. CAS focuses on experiential learning and encourages students to gain real-life experience beyond the classroom.
Theory of Knowledge (TOK) – an internally and externally assessed interdisciplinary component, which is designed to explore and critically examine different concepts of knowledge found in various subjects and culture. It encourages curiosity, inquiry and critical thinking about knowledge itself and help students make sense of what they learn and encounter in school and the world around them.
The Core Extended Essay (EE) – an externally assessed, independent research assignment of 4,000 words in one of the six subject areas. The EE is an in-depth investigation through which the student can specialize in a certain subject area and become familiar with the level of research and writing expectations of a university level education.
AFTER-SCHOOL SPORTS PROGRAMME:
With numerous playing fields and sporting facilities, children can opt to be coached in a sport of their choice, visit the Fitness Centre or simply play a game of football or basketball with their friends. All sporting facilities can be accessed for a dedicated time each day.
Assessment
Students take written examinations at the end of the two-year programme. The grade awarded for each course ranges from 1 (lowest) to 7 (highest). Students can also be awarded up to three additional grade points for their combined results on theory of knowledge and the extended essay. The highest total that a Diploma Programme student can be awarded is 45 points and the diploma is awarded to students who gain at least 24 points subject to certain minimum levels of performance across the whole programme and to satisfactory participation in the CAS requirement.
Students can choose to study for individual IB Course, rather than the full diploma, if the diploma combination does not best meet their individual needs or circumstances. Close mentorship by the faculty nurtures an academically vibrant community. Therefore, it is not a surprise that we proudly acclaim our achievers.
IB Recognition Worldwide and in India
Higher education institutions around the world admit students based on their IB Credentials and 150 countries worldwide recognize the IB Diploma. It has also been recognized by the Association of Indian Universities (AIU) as an entry qualification to all universities in India. Since Jun 2016 the AIU also accepts IB DP Course as an entry qualification to Indian universities.  The IBO issues a document detailing percentage equivalency along with a transcript of results especially for Indian universities.
 University Placements
University of Pennsylvania, University of California at Berkeley, University of Bradford, Hong Kong, Toronto, Sheffield, Boston, Urbana Champaign, British Columbia, and Glasgow are examples of renowned universities which have opened doors for our budding aspirants. Miranda House, Narsee Monjee, Gargi College, St Stephen's, JMC, SRCC, DTU, GD Goenka and Ashoka University in India have accepted our students as all universities in India readily acknowledge IB scores for admissions.
Academic Counseling
We provide guidance for university admission (university selection, application, essay writing, TOEFL, IELTS, SAT and other entrance examinations) through our career counseling centre. It helps students evaluate their abilities, interests, talents and personality in order to develop realistic academic and career goals. Students are also supported to identify their subjects for further studies through interviews, counseling sessions and interest and aptitude assessment tests. The academic counseling centre also invites representatives of different universities to hold seminars for the students and parents.
Counseling
We provide counseling services to address social, emotional and behavioral needs of the students. Counseling helps students cope with stressors of teenage life and the academic demands of the programme. Counseling services are tailored to meet the needs of each individual, whereby counseling sessions help them improve their self-esteem, interpersonal and social skills, organizational and time management skills, and their ability to cope with numerous stressors. The counselors maintain high degree of confidentiality in order to create an environment for students to clearly discuss their issues.
Salient Features
-The campus is spread over 60 acres and has a surveillance of CCTV round the clock.
-Students can use wi-fi in any part of the campus as there is connectivity in the entire school.
-The students are served a multi cuisine to cater to different nationalities.
-The buildings are fully air conditioned at the same time the class rooms big with ample natural lighting.
-The classrooms are fully equipped with latest teaching technologies.
-The campus is on T-joint, which makes the building quake resistant and it can survive an earthquake of 10 Richter scale
For more information about the IB DP programme please refer to the following links: